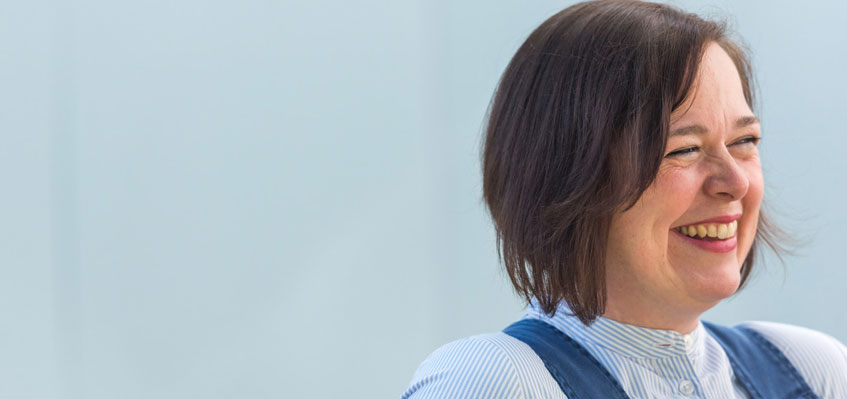 Jessica Curry talked to us a couple of weeks ahead of the concert by ORA Singers in which they perform the world premiere of her piece Close Thine Eyes. It features alongside a programme ranging from Renaissance madrigals to new works – all with a literary theme (6 May – more info and tickets).
Better known as a composer of uplifting and lyrical video game scores (such as the BAFTA-award-winning Everybody's Gone to the Rapture), Jessica took as her starting point the poem The Silver Swan.
We started right back with her childhood experiences of making music.
What instruments do you play?
I play the piano and I sing. When I was a kid, my next-door neighbour was a violin teacher. After a year of lessons she gently took me to one side and said 'Jessica, I just don't think this is the instrument for you' and suggested I take up the cello. She was absolutely right and it was love at first play.
I am about to buy a shruti box for my next games music project and I'm looking forward to delving into the world of drones!
Who (or what) inspired you to start composing?
I made up tunes on the piano music long before I knew what composing was, so I think it was just something that was always inside me. I was constantly writing little songs; the first Mozartian classic being "Jessica Curry is in a hurry, she's going on holiday/Hip hip, hurray, she's going on holiday." I think you can spot the innate talent right there.
My first memory of hearing music is The Coventry Carol– I must have been 3 or 4. It touched me so deeply and still does to this day. I've always loved communicating through music- it's so direct and visceral and goes straight to the gut.
How did you move into video game music?
I can honestly say that composing for interactive music was never on my agenda. My husband Dan asked me to write the music for his first game, which was Dear Esther. This became an unexpected sensation and overnight we were thrust into the games industry. I had never played a game when I wrote the score for Dear Esther, so I just composed the music that I thought fitted the game.
In retrospect I do think that that naivety played in my favour: because I wasn't aware of the conventions of game music, it completely freed me just to write. I wouldn't advocate ignorance as a best practice technique for all life situations of course, but I think it worked for us because Dear Esther itself defied so many gamic conventions.
I have had some wonderful adventures writing music for games and it affords wonderful creative freedoms.
What inspires the vocal elements in your music?
I sing and I love it. I was in a madrigal group and choir in school, and it's continued to be an integral part of my life. For me, there is nothing as exciting or inspiring as writing for choirs.
I read English Literature at university and both my mum and my husband are writers so the written word is also an integral part of my life and forms a large part of who I am. So, to me, the melding of text and music is a sacred and deep joy. There is something so human, so direct about the choir and it never fails to touch me on a very profound level. I always write good melodies for Alto 2- my crew.
What is different about composing for a concert piece for choir compared to composing for a video game?
Good question. Music for video games is an interactive experience- the music has to be able to both follow and guide and also support the player's journey through the space. It's an incredible challenge- the music has to be dynamic and responsive, so you can't just write a linear film score and let it play out. It took me a long time to get my head around this.
Essentially though, I'm attempting the same thing in all of my music- to evince an emotional reaction and most fundamentally to communicate. I don't imagine visuals in my head when I'm writing but people often say to me that my music conjures pictures and journeys in theirs.
Tell us about Close Thine Eyes (based on the poem The Silver Swan), to receive its premiere on 6 May with ORA Singers.
I have loved writing this piece. It's the first time that I've used another piece of work as a starting point and that's been really exciting and very fruitful. The piece is for choir and solo oboe. I kept the text from the poem but I have played around with it; switching it up and highlighting and repeating certain phrases.
When I first read the text, I had an instinctive first reaction, particularly the phrase "More geese than swans now live, more fools than wise". For me it summed up our present political climate very succinctly. But then something shifted in me. A remembering that we have always lived in troubled and distressing times and that the swans have always been here too- the people who make this world a better place to be.
Art is often a response to difficult feelings and challenging situations; it's a way of reaching out to others to share, find community and come together. One of the greatest gifts we can offer as artists is a path through pain and aggression towards something universal.
What do you enjoy doing when you're not composing?
Even though I have a degenerative disease I am (in)famous for never sitting down – I especially love walking, dancing, swimming and gardening. The only time you'll find me in one place is when I'm reading.
We have a rescue dog called Della and she brings great joy and laughter into the house. She is a shoe-stealing, tea drinking softie. I also love being with husband Dan and our funny, ebullient teen Sydney.
Who's your favourite composer from the Baroque or Renaissance period?
I absolutely love Henry Purcell. I remember hearing Music for the Funeral of Queen Mary for the first time as a teenager and being totally blown away. Majestic melancholy: so up my street. Hearing Catherine Bott singing When I am Laid in Earth will also stay with me forever.
My work has never been programmed against early music before and it really is a thrill for me as I feel very connected to music from that era. So many people have written to me during the pandemic to say that my music has provided succour and solace during the hardest of times and that's the way I feel about early music. It soothes the soul.