Beginnings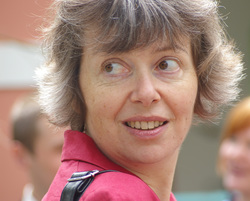 Cambridge Early Music was founded in 1993 as Cambridge Early Music Summer Schools (CEMSS) by Selene Webb (née Mills), on her return to Cambridge. Selene had graduated in Classics in 1982, from Selwyn College Cambridge, where she was an Academic and Choral Scholar and had spent some time working in Colchester and London, and then at the Benslow Music Trust in Hitchin as Course Secretary. Selene's vision was to provide intensive study weeks with inspirational, world-leading experts in the field of historically-informed early music performance practice, situated in the heart of the historic centre of Cambridge. In many ways this was to replicate the way teaching was done in the time of the very early establishment of the Colleges, when there were no exams and students were expected to learn by living alongside their peers and superiors, discussing learned matters over communal meals and informally, as well as in more structured tutorials.
From the beginning, for two, and sometimes three weeks during August, the courses have attracted students from all over the world and a huge variety of backgrounds: some professional musicians wishing to enhance their knowledge of early music performance practice, some music students and aspiring professionals, but also experienced, talented amateur musicians seeking a greater depth of understanding of the music they love to play and sing. A significant number of alumni have gone on to have outstanding careers in music, including Clare Wilkinson, Emma Murphy, Alison Kinder, Trio Mediæval, and Singer Pur; equally welcome have always been those for whom music is simply their greatest love.
Student performances—both informally, to share what has been explored in tutored sessions, and formally, in a final public concert alongside inspirational public performances by the tutors—have always been at the heart of the courses, right from the very first concert given by The Parley of Instruments on 20 July 1993. Selene calmly saw to all the organisational and operational aspects of both courses and concerts, aided by her husband Nick Webb and, during the courses, Linda Gower.
Company and Charity
In 2009 CEMSS became a Registered Charity and a Company Limited by Guarantee, changing its name to Cambridge Early Music (CEM). The Board of Trustees (of the charity) and Directors (of the company) were chaired by Professor Tony Watts, and were thereafter responsible for the governance of the organisation and ensuring that the necessary accounts and documentation were filed at the Charity Commission and Companies House. Operational aspects remained in Selene's capable hands, and arrangements were put in place to remunerate her for the considerable amount of time she spent on CEM business. From the very start there had been concerts around the time of the Summer Schools, and this gradually expanded into a concert series running throughout the year. Many of the fine city churches and College chapels are used as venues, which are matched to the nature of the programme—ranging from the solo lute recital to the polychoral splendour of Tallis and Striggio. The musicians are always the finest exponents in their field, but the series also gave, and continues to give, a platform to young emerging talent. To that end, in 2015, an annual prize was offered for the first time at the York Early Music Festival International Young Artists Competition, consisting of a concert engagement in Cambridge as part of the CEM concert series.
Bursaries
Selene wanted anyone who would benefit from the courses to be able to take part, regardless of resources, and so over time, monies were found from donations and other organisations such as Eastern Early Music Forum (EEMF) to fund a small number of bursary places each year. Part of the reason for expanding the concert series was to help defray the costs of running the Summer Schools, thus making them accessible, and increasing the funding available for bursaries.
Friends
For the organisations's tenth anniversary in 2001/2, The Friends of CEM were set up, and the scheme has subsequently been relaunched with different categories of Friends, Patrons and Benefactors. This brings together like-minded individuals to support the organisation, provide vital financial assistance and help us share the gift of music both now and in the future. A donation to the charity entitles the donor to various privileges, the largest benefits of which are a number of free tickets each year and reserved seating at the front for all concerts.
Handing on
By early 2014 Selene knew that the long battle she had been fighting with cancer was drawing to its end. She displayed great courage and resilience, refusing to let the illness deflect her from her life's work. She was taking an active part in the Baroque Summer School days before she died on 10 August 2014. Louise Jameson stepped in at short notice to become Acting Administrator, and it was largely thanks to her and to Linda that the courses carried on almost seamlessly that year. Louise carried on the running of the concert series and all the paperwork associated with it until she handed over to the new Administrator, Dr Christopher Roberts, who took up the role in January 2015.
Looking forward
Since August 2014, of necessity, there has been a significant amount of change. As has already been mentioned, the Friends of CEM were relaunched, Chris was appointed as Administrator, the Chair of Trustees passed to Dame Mary Archer in April 2015, and many more exciting things are planned for the future. Nick Webb set up The Selene Webb (née Mills) Memorial Bursary Fund, administered by CEM, to ensure that bursaries for the Summer Schools are provided and safeguarded in perpetuity. The fund has attracted some substantial donations, and now stands at around £43,000. The funds were boosted significantly by a concert in memory and celebration of the life and work of Selene in Trinity Chapel on 19 July 2015, also organised by Nick. This concert was a marvellous coming together of many of the musicians with whom Selene had worked, sung and played during her life—an astounding tribute to her vision, and testament to the impact Selene and Cambridge Early Music have had, and will continue to have, on the musical lives of so many people.