Applications are now closed
As part of our Summer Schools programme, this week will be the perfect opportunity to make new friends through old music, and to develop your skills under the guidance of a world-class team of tutors: Clare Wilkinson voice and course director, Jacob Heringman lutes and William Hunt viols. (Find out more about our tutors.)
Mr Byrd's Private Music: Music for recreation and devotion in Byrd's inner circle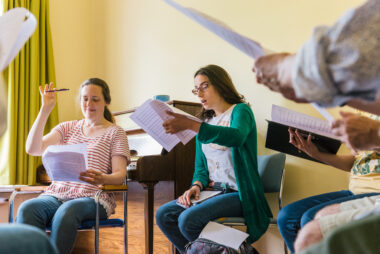 A chance to look in depth at the incomparable music of William Byrd: motets, madrigals, masses, viol consorts, solo consort songs (some arranged as lute songs) and consort anthems (including two newly-reconstructed works). We will work in small groups at a high level, with one voice/instrument per part, and also in the form of 'open lessons'. Participants will be encouraged to work autonomously as well as under the direction of our tutors. Voices and instruments will work together and apart. Each day will start with an Alexander Technique-based warm-up. All our music-making will be 'framed to the life of the words' – led by the texts which meant so much to Byrd.
Byrd's friend Edward Paston made lute arrangements of many of Byrd's vocal works, some of them the only surviving examples of these works. These arrangements form the basis for more reconstructions (all are featured in William Hunt's 'In Chains of Gold' series). How were these lute parts used? The opportunity to study them here opens the door to ways that voices, together with lutes and viols, may have taken part in domestic devotion as well as recreation.
This residential week will be a chance to immerse yourself in Byrd's music on an intimate scale, work at a high level, and develop your skills under the guidance of an expert (but very friendly) team of tutors. Open to experienced voices, viols and lutes.
A typical day's schedule might be: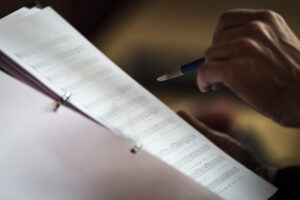 09.30 – Warm-up, followed by consort groups
11.00 – coffee
11.30 – 'open lessons' on solo consort/lute songs, or a group workshop
13.00 – lunch break
14.30 – Free time, for music if you wish
16.00 – tea
16.30 – consort groups
18.30 – dinner
19.30 – tutti session: consort anthems, or sharing the day's music
Later – Benslow Music's bar is open
This example timetable is subject to change.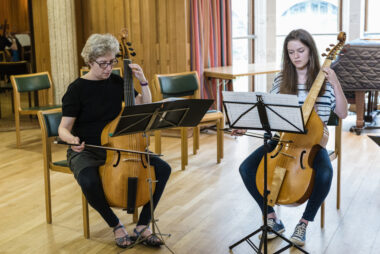 Music will be provided, but you are also encouraged to bring your own sets of parts and scores if you wish. Alternatively, you could join the growing number of people saving paper by using iPads.
On the final evening, course members participate in a public concert, performing works studied during the week. There will be chances for informal performance of favourite pieces during the week.
Participants should arrive in time for tea at 4pm on Saturday 16 July; the first session will start at 4.30pm. The course ends with breakfast on Saturday 23 July.
Is the Renaissance course for me?
This is an advanced course. We welcome applications from confident singers who can hold a line alone with ease (note that much, but not all music will be available in advance) and from similarly confident players of viols and lutes. Pre-formed consorts are especially welcome!
Non-singing/playing observers are also welcome, by arrangement; contact us for details. The course is open to over-18s, or over-16s if accompanied by an adult or if non-residents.
Venue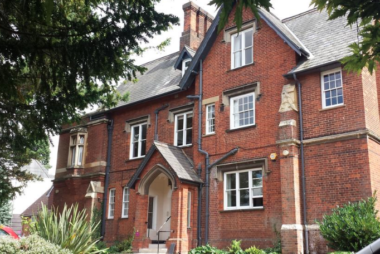 Our 2022 course will be held at Benslow Music, Hitchin, just a 30-minute train ride from Cambridge or London. An ideal base for exploring some of England's most beautiful countryside, the historic town of Hitchin with its fine parish church is a destination in itself. There is also plenty of free parking.
Benslow Music has ten designated rehearsal and practice rooms, including two halls suitable for larger ensembles and public events. They possess a fine Goble harpsichord modelled on a 1727 Christian Zell original as well as virginals, a spinet and a restored Broadwood square piano dating from the 1820s.
Benslow Music provides a wide range of comfortable bedrooms with ensuite or shared bathroom facilities, enviable catering and all sorts of rehearsal and practice rooms. The beautiful gardens provide an inviting space in which to relax and regather energies between sessions. Additionally, all summer school participants will be able to make use of Benlow Music's extensive music library during their course. Find out more about accommodation on Benslow Music's website.
Bursaries
The Selene Webb (née Mills) Memorial Bursary Fund supports those whose financial situation would prevent them from attending our courses without assistance, particularly music students and those setting out on a career in music. Find out more on how to apply for a bursary.