Our Baroque course this year is again coached by a team of highly acclaimed tutors, working both as teachers and performers: Laurence Cummings as course director, voices and continuo, Bojan Čičić upper strings, Mark Caudle lower strings, Leo Duarte woodwind and Mary Collins, baroque dance and stagecraft. (Find out more about our tutors.)
Registrations will be open in mid-December. Sign up to our Summer Schools' mailing list to be the first to learn when applications open!
Campra L'Europe Galant*
*Selections from. Full description of the 2024 theme to be updated in the coming weeks.
Following on from the success of last year's production of The Fairy Queen, this year's course focuses on Henry Purcell's King Arthur: a dramatic work based around the play of the same name by John Dryden. The epic Arthurian tale is interwoven with masques made up of delicious dances, songs and choruses.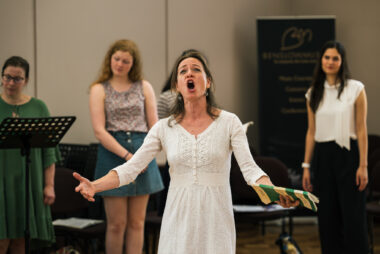 The genre is now described as semi-opera and as with last year's hugely successful Fairy Queen has its roots in Restoration drama but also draws on the French tradition of Lully's Comédies-Ballets and Tragédies Lyriques.
Purcell's score is wonderfully inventive and equally rewarding for singers, instrumentalists and dancers. Orchestral preludes give way to solo songs and choruses, which tell of danger lurking around every corner, lost sight restored and insurmountable obstacles being overcome. All the perfect ingredients for a Baroque Summer School!
Students will have the opportunity to work with a dynamic faculty including an inspirational dance specialist whose research and expertise is inspiring musicians to look afresh at the dance music which is at the heart of the Baroque repertoire. Learn more about baroque dance.
Our 2023 summer course will be devoted to preparing and exploring Purcell's musical gem as well as giving opportunities to discover other treasures of the 17th and 18th centuries. We will be working towards a final performance of King Arthur, involving all course participants, choreographed and staged by Mary Collins and directed by Laurence Cummings. This will be a public performance in a Cambridge venue.
Each day we will offer instrumental classes in sectionals, choral and orchestral sessions, with opportunities for smaller ensemble and individual sessions. The vocal allocations will be organised on arrival. Please indicate on application if you are interested in singing a solo and include a short sound clip of your singing.
A typical day's schedule might be: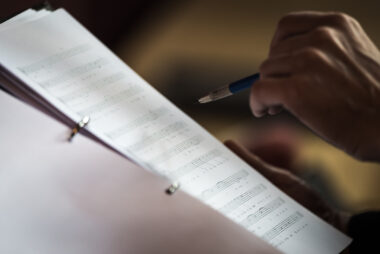 09.00 – physical warm-up taken by Mary Collins, including an introduction to baroque dance and stagecraft for everyone
09.30 – sectional/vocal/dance classes
11.00 – coffee
11.30 – sectional/vocal/dance classes
13.00 – lunch break
14.30 – chamber music, dance class and choir
16.00 – tea
16.30 – tutti session
18.30 – dinner
19.30 – informal students' concerts
Later – Benslow Music's bar is open
Tuition will incorporate historically informed techniques and style. Mary Collins will also be available to coach instrumentalists on their dance movements to show how studying dance steps can enhance your musical performance. A selection of music for many combinations of instruments and voices will be provided; you are also invited to bring your own sets of parts and scores.
Participants should arrive in time for the welcome at 4pm on Sunday 23 July. The course ends with breakfast on Sunday 30 July. On the final evening, course members will participate in a public representation of King Arthur at a venue in Cambridge.
Is the Baroque course for me?
Applications are invited from dancers, proficient singers and confident players of gut-strung Baroque instruments (violin, viola and cello), with Baroque bows (some instruments and bows may be available to hire), bass viol, violone, recorder, oboe, bassoon, lute family and harpsichord/organ (suitable keyboard instruments are provided). Pitch: A=415.
Players should have a good mastery of instrumental technique, but not necessarily any experience of Baroque playing. However, the wind players need to be fluent and confident on their Baroque instruments, able to sight-read solos with confidence. Continuo players should have a good knowledge of figured bass.
Singers should be experienced and fluent sight-readers; they may be encouraged to take solo parts as well as singing in ensembles.
Pre-existing groups are welcome to apply together, and may bring prepared music for coaching in some of the chamber music sessions. Non-singing/playing observers are welcome if we have space.
Venue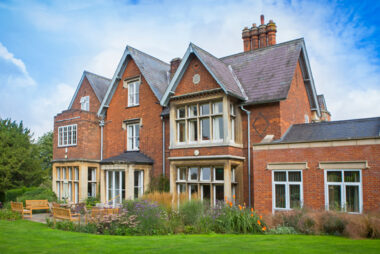 Our 2023 course will be held at Benslow Music, Hitchin, just a 30-minute train ride from Cambridge or London. An ideal base for exploring some of England's most beautiful countryside, the historic town of Hitchin with its fine parish church is a destination in itself. There is also plenty of free parking.
Benslow Music has ten designated rehearsal and practice rooms, including two halls suitable for larger ensembles and public events. They possess a fine Goble harpsichord modelled on a 1727 Christian Zell original as well as virginals, a spinet and a restored Broadwood square piano dating from the 1820s.
Benslow Music provides a wide range of comfortable bedrooms with ensuite or shared bathroom facilities, enviable catering and all sorts of rehearsal and practice rooms. The beautiful gardens provide an inviting space in which to relax and regather energies between sessions. Additionally, all summer school participants will be able to make use of Benslow Music's extensive music library during their course. Find out more about accommodation on Benslow Music's website.
Bursaries
The Selene Webb (née Mills) Memorial Bursary Fund supports those whose financial situation would prevent them from attending our courses without assistance, particularly music students and those setting out on a career in music. Find out more on how to apply for a bursary.