We would like to thank Dame Mary Archer most sincerely for many years of dedicating her excellent organisational abilities to the role of Chair of Trustees. She will retire as Chair this summer, leaving CEM as a healthy, vibrant and active organisation. She will be devoting her time to her many other commitments and interests but we particularly wish her well in her new role helping to set up the Children's Hospital at Addenbrooke's Hospital, Cambridge.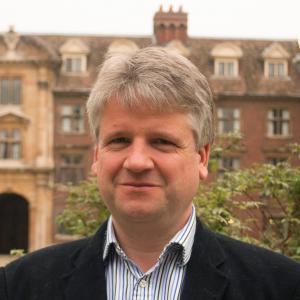 We are delighted to report that the position of Chair will be filled by Edward Wickham, Fellow and Director of Music at St. Catharine's College, Cambridge since 2003. Edward was for many years Director of The Clerks, the vocal ensemble which he formed in 1992. With The Clerks he made a series of ground-breaking recordings, principally of Franco-Flemish Renaissance music and in 2001 the ensemble completed an award-winning survey of the music of Jean Ockeghem.
More recent projects have included first-time recordings of polyphony by composers such as Josquin, Barbireau and Regis. He came to St Catharine's College in 2003, and in 2008 established the first college-based children's girls' choir. With the St Catharine's choirs he has continued his work on Renaissance repertoire including a pioneering disc of sacred music by Claude Le Jeune.
A more detailed biography can be found here :-
https://www.caths.cam.ac.uk/directory/dr-edward-wickham
We are very much looking forward to working with Edward and welcoming him to the board of trustees as we restart our live music concerts with Stile Antico on 29th June and go forward into an exciting, hopefully Covid-free future.