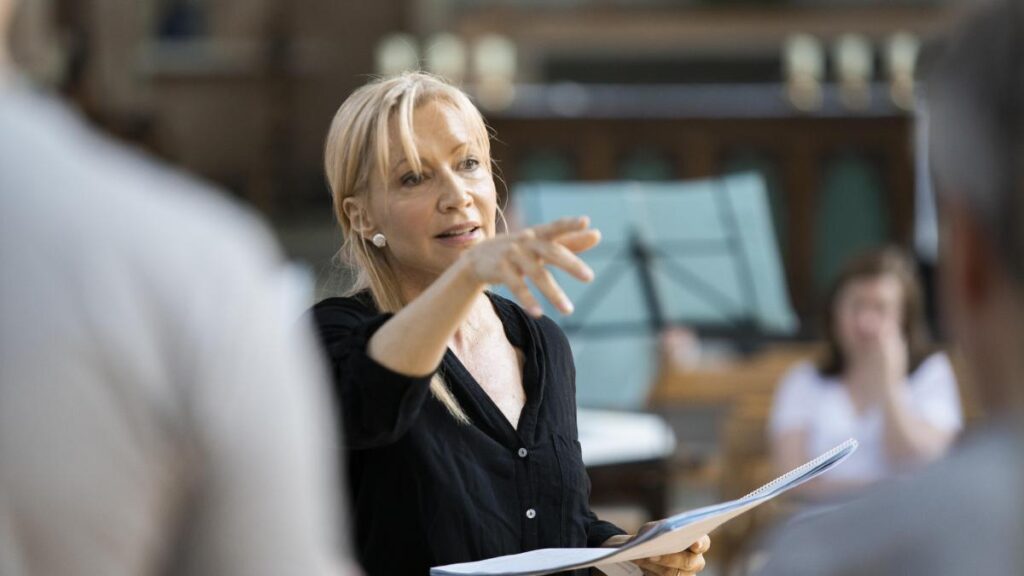 Q&A with Suzi Digby, conductor of ORA Singers who perform The Silver Swan on 6 May (more info and tickets)
What instruments do you play?
Piano was my first instrument. I also learnt bassoon at school and tenor viol at University
And, of course, singing – in every type of choir, and as a young (child) soloist. I loved them all. Having keyboard skills is vital & learning the bassoon was fun. I learnt the tenor viol with the specific aim of playing consort music at Uni.
But very early on, I realised I wanted, above all, to be a conductor, so no regrets. I used to practice piano many hours a day, but being with people is what I really love, so the force driving me as a conductor trumped everything! Having some experience with one wind instrument and one stringed instrument has been quite helpful when I'm conducting an orchestra in a choral-orchestral work.
How did you get into conducting?
Very early on, from my teens onwards, I was drawn to working with children. I love children and singing became the route but which I could work with children. I started forming children's choirs. David Willcocks 'talent spotted' me in Hong Kong when I was 21. He urged me to develop my skills in conducting and to apply to a Churchill Fellowship in the category of Training of Children's Choirs. I was lucky to be awarded the Fellowship with which I travelled the world, learning from great practitioners.
At the same time, I was starting adult singing groups. In fact, I started choirs everywhere I could. For all age groups. I love working with the 'uninitiated', giving them confidence to sing. I also love working with the top pros.
As a musician, I always needed complex repertoire, hence my 2-track career (from the very beginning) of working with experienced chamber choirs and with young choirs. I founded London Youth Choir to build on what I'd learned on my Churchill Fellowship.
I then went on to study choral conducting in Hungary with Peter Erdei. Then I embarked on my career as a professional conductor, mainly with chamber Choirs. But also with choral societies and massed choirs.
Why is commissioning new music so important to you/ORA?
I've been commissioning new choral music all my life. My first commission was in 1980!
One day, 8 years ago, I had a 'eureka' moment and realised we are in a new 'Golden Age' of choral music and, specifically, choral composition. I felt an imperative to commission a body of work that would be a snap shot of the genius of the Age. The last Golden Age of small-scale a capella music was that of the Renaissance, so I decided to created a bridge between the two Golden Ages (then and now) by commissioning 100 new works to reflect 100 Renaissance works. And to record these with the best choral singers in the world.
Hence ORA was founded. I hope this body of work will be looked on, in 200 years from now, as a collection that encapsulates the choral genius of the age.
Tell us about the repertoire in The Silver Swan, on 6 May. Why did you choose these pieces to go together?
This specially constructed programme ties together ORA's favourite secular gems from the Renaissance through to the present day, weaved around a performance of Jonathan Dove's songs for solo voice, Ariel, sung by star soprano, Jessica Cale. This concert will also feature the world premiere of Jessica Curry's piece, Close Mine Eyes, a brand new work specially commissioned by Dame Mary Archer for ORA Singers. [Read our interview with Jessica Curry]
What are your connections to Cambridge?
My husband, John Eatwell, was President of Queens' College for 23 years. We lived in the President's Lodge and I worked hard with music at Queens'. I started choirs for every college community, including a Fellows Choir, a Grad choir and Kodaly classes in the college nursery! The Chapel Choir was my main focus. I was acting Music Director at Queens' before we appointed a Music Director.
What do you enjoy doing when you're not working?
Family, friends, my home & stitching late at night (needlepoint- which is my antidote to performance adrenaline!). And listening to BBC Radio 3 (which I have on at home 24/7!)
Who's your favourite composer from the Baroque or Renaissance period?
Probably Byrd & Gibbons. And, of course, Bach