Hear Ensemble Hesperi in concert on Wed 25 January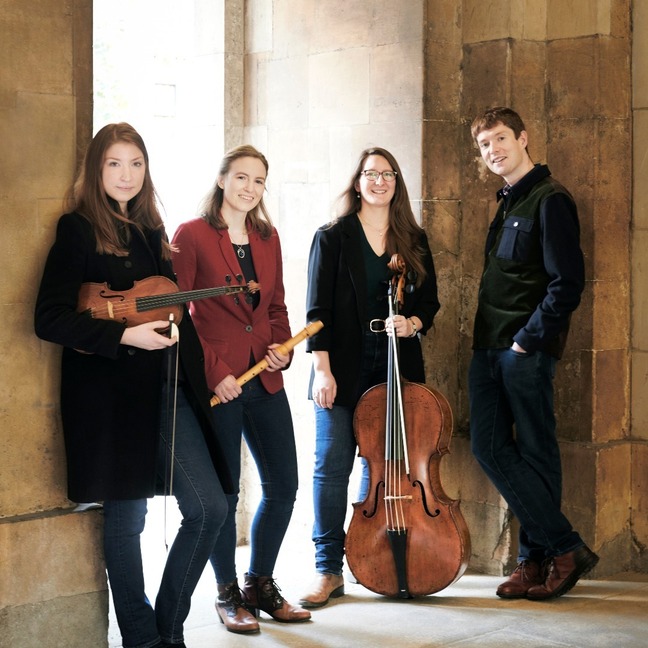 What were your first musical experiences as a child?
I grew up in Aberdeen, Scotland, where I studied piano, recorder and cello, first at home, then at school with many wonderful teachers, to whom I will always be profoundly indebted. My father is a professional organist, and my mother's family is also very musical, so music has always been part of the furniture of my life. I was incredibly lucky to receive a music scholarship to attend my school, where I played in many chamber and orchestral ensembles, as well as singing in the school choir. Later on, I attended the first incarnation of the National Recorder Orchestra of Great Britain – an incredible ensemble. In my teenage years, I suffered increasingly from performance anxiety, which thankfully no longer troubles me – but overall my wonderful first experiences of music undoubtedly shaped my vocation as a professional musician today.
Who has been the biggest musical influence on your life?
That's a difficult one! Alongside my father, I would have to say my husband (and Hesperi's harpsichordist), Thomas Allery. We met studying for a Masters at the Royal College of Music, and fell in love rehearsing improvisatory late seventeenth-century music for our favourite module! Over the last decade, we have discovered all kinds of music together, and his passion for harmony and figured bass constantly inspires me.
What music do you enjoy listening to outside of work and performance?
I appreciate a good melody in any musical genre, but my favourite artist is indie singer and composer Fyfe Dangerfield. His most recent twelve-part long-form series, Birdwatcher, is a cacophony of gorgeous tunes, fascinating sounds and heartfelt lyrics which can somehow lift me above the challenges of the everyday.
What has been the most memorable performance you have given?
A performance I shall never forget took place just a few weeks ago in the town of New Galloway, in the West of Scotland. We had been invited by a keen supporter of ours to lead informal playing sessions during the daytime, and then to give a concert in the evening, at the local "Catstrand" arts centre. Throughout the day, we got to know all sorts of people, many of whom had watched us streaming weekly online during the pandemic – and to perform for them live was so special. For us, music is about the joy we can bring to others, and to be able to feel the love and warmth of an audience so strongly that night was an incredibly rewarding experience.
How did you come to be involved in this ensemble?
Ensemble Hesperi is my own ensemble: initially, I formed a duo with my husband and harpsichordist Tom, then a few years later, we decided to invite our friends Magdalena Loth-Hill (Baroque Violin) and Florence Petit (Baroque Cello). From the start, I was keen for the ensemble to champion forgotten music, and to bring the stories of the past to life through original research. More than anything, I enjoy creating new programmes and planning new projects for Hesperi, many of which have sprung from my PhD research on Scottish musical culture in eighteenth-century London.
Tell us about the instrument(s) you will be playing
I'm a professional recorder player, so in this concert I'll be playing three different Baroque-style recorders, all at A=415 pitch. The smallest, the soprano, is by a Japanese recorder maker, Takeyama, and has a very distinctive, sweet, sound. The alto is by a French maker, Philippe Laché, in boxwood, and the largest instrument, a "voiceflute", also by Laché, is made from a fruitwood sourced in his local Provence. Like all my recorders, these instruments are entirely irreplaceable, as they are, in some way, an extension of me: each one expresses a different element of my musical character.
What should the audience expect from your concert at CEM?
Our concert is on Burns Night, and so we'll be playing all sorts of Scottish eighteenth-century music from our latest CD, Full of the Highland Humours. You can certainly expect toe-tapping dance rhythms, soaring melodies, and, along the way, to learn more about the fascinating stories of the many Scottish musicians who made a new home in London. Many of our audience members comment that they are transported to Scotland during our concerts – we hope to do the same for you!
What is your favourite part of this programme?
Our programme features two miniatures by the Scottish eighteenth-century composer James Oswald, from his intriguing collection of "Airs for the Seasons". Oswald is by far my favourite Baroque composer, and these airs in particular are such a delight to play. Oswald composed 96 of them, each printed on just one page, and named after a flower or a plant. He published the first set in 1755 in London, where, like me, he settled for the rest of his working life, eventually becoming Chamber Composer to King George III.
Do you have connections to Cambridge?
I was at Oxford as an undergraduate…. But many of my friends were at Cambridge, and I have always enjoyed visiting the city for concerts, and occasionally punting!
Which other concerts at this year's CEM would you most like to attend and why?
"Divorced, Beheaded, Died", with Palisander, looks great fun! They're playing music from Tudor England, following the stories of those women unfortunate enough to be wives of Henry VIII. Music from this period takes me back to my college days, when I used to play in a recorder consort – I sometimes miss it! All the recorder players in this quartet are absolutely fantastic, and you can be guaranteed a gripping concert experience.