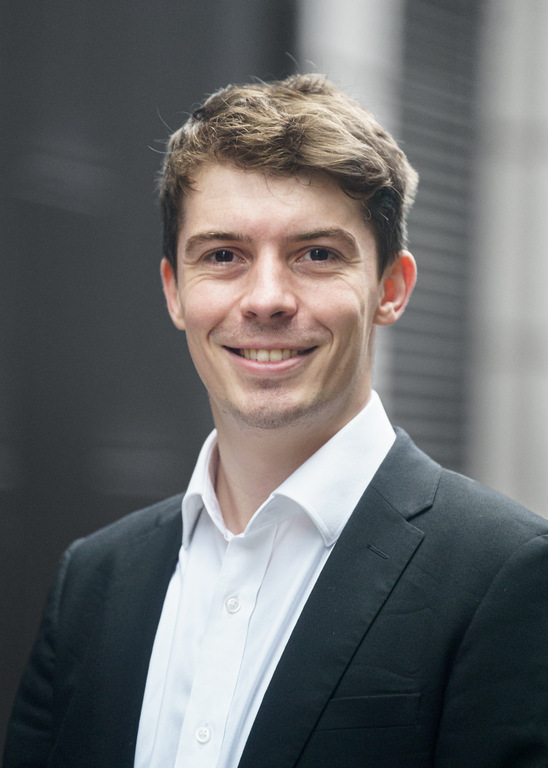 Hear The Gesualdo Six in concert on 13 December .
What were your first musical experiences as a child?
I have been singing since the cradle really: at the age of about 3 I joined the New Youth Choir Club in Dursley in Gloucestershire, which was run by my mum who is a local music teacher. At 7 I was old enough to start singing alongside her in Dursley Parish Church Choir as a treble, where I sung until I left for 6th form. Dursley has an incredible rich history of choral music, and the choir boasts many of the longest-serving members of the Royal School of Church Music in the country, including legendary Lionel Jones, who at the time of his recent retirement had been singing with the choir for 84 years. Quite the inspiration!
Who has been the biggest musical influence on your life?
I was very lucky to grow up surrounded by music, and my grandfather was a countertenor with Christchurch Priory for many years before my birth, so my family are undoubtedly the biggest influence upon me. My mum sung in the Cambridge University Chamber Choir under Richard Marlow, so I spent my mid-teens nursing an ambition to be a Cambridge Choral scholar.
What music do you enjoy listening to outside of work and performance?
Recently I have been very gripped by the music of Caroline Shaw and the wonderfully monikered 'Roomful of Teeth', especially Shaw's 'To the Hands', but most of what I listen to even in my spare time is part of the world of early or choral music. There's such variety across the geography and time of European music and I so enjoy making connections across those seemingly great distances.
What has been the most memorable performance you have given?
I am a huge geek for the music of the Holy Minimalists, especially Arvo Pärt, so when we got to perform the definitive work of his Tintinnabuli technique: PASSIO at St. John's Smith Square in 2017 with him in attendance (and I got to meet him!), that was incredible for me. This coming year though we will be performing in Sydney Opera House on my 32nd birthday, so that promises to be very special too.
How did you come to be involved in this ensemble?
In Spring 2014 I had just graduated from Cambridge and was living here, working as an Organic Chemist. Mike Craddock, our baritone was also still local, and the environment was so full of music that maybe it was inevitable that something would evolve. I went to the room of the new organ scholar of Trinity College, Owain Park, with a recording of the King's Singers performing Gesualdo's Tenebrae Responsories, he asked Joseph Wicks to sing tenor, and the rest is history. That original shared vision and excitement for a huge range of repertoire still drives the ensemble today.
Tell us what is special about being a countertenor
Being a Countertenor is strange. In some ways it might be likened more to playing an instrument than other vocalists because the technique is maybe more removed from everyday speech than life as a tenor or mezzo for example. Cambridge was a fantastic place to hone my skills as a countertenor, especially in a section with female altos too at Trinity. It was only really performing with The Gesualdo Six however, that I was able to properly develop my understanding about the place for my voice in the context of the history and traditions of choral and sacred music.
What should the audience expect from your concert at CEM?
Since our first year together, Advent has been a very special time for The Gesualdo Six. Later on, we were fortunate to record some videos in Ely Cathedral of our favourite carols and so many of our favourite works in the whole repertoire are part of this programme: We explore the magic of settling white snow and the mysterious penitential season with works Sally Beamish and Joanna Marsh, recall the smell of incense and newly polished church pews with renaissance works from across Europe by Byrd, Praetorius, Clemens, and Palestrina and also embrace the berries and fireside aspects of a familial Christmastide with some modern takes on those ancient and fabulous carols which form such an important part of our tradition.
What is your favourite part of this programme?
It's hard to look past Praetorius' Es ist ein Ros' entsprungen, for its brilliance in simplicity. It's been a part of our programme since our fourth concert as an ensemble, and I'm not sure it could feel like Christmas until we've sung it as a group.
Do you have connections to Cambridge?
I moved back to Cambridge last year and in many ways I feel like I never left. Studying here felt like a dream (occasionally more like a fever-dream) but I still feel very connected to the area and the University. There are few better places to make and enjoy the music that I love than Cambridge.
Which other concerts at this year's CEM would you most like to attend and why?
That's a difficult question as there are so many fantastic musicians performing in Cambridge over the next 12 months, many of whom I've had the pleasure of performing alongside before. I might have to plump for Ensemble Leones in January though. I've not had the pleasure of making music with any of them (yet!), and as a relatively recently converted Early Music Badger, I think their programme will contain some exciting new discoveries for me.